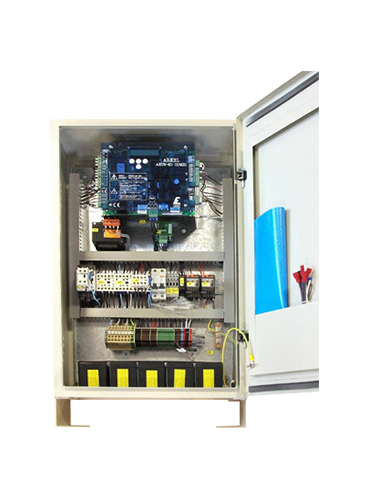 AKUS SD
Emergency Rescue Systems
Makes it possible to evacuate passengers by opening the door automatically after bringing the elevator from the position between two floors to the floor level in case of a blackout. All Asynchronous Motorized Systems with Single Speed ​​and Double Speed ​​Control can be applied to speeds up to 1.6 m/s.
5 Units 12V / 7Ah maintenance-free Batteries, Smart Battery Charging System Serves For Years
Advantages of AKUS SD COMBI System
User Interface
Ease of Use
Thanks to the LCD display on the card, the system parameters such as maximum cruising speed, automatic door type, motor driving frequency, door opening interval, commissioning delay and language can be easily changed.
System information and fault indications are indicated on the internal LCD screen.
Compatible with all kinds of control panel
Supports all automatic door systems
Open loop operation. There is no need to connect a sensor to the motor
Start delay can be adjusted for generator buildings
Easy rescue (up with empty cabin, downward with full cabin)
Motor riding frequency and motor torque can be adjusted from the menu for smooth start-up